Basic characteristics
User-friendly operation
Modern menu guidance
Resistant to radio frequency interference
Backlit display
Standard rechargeable batteries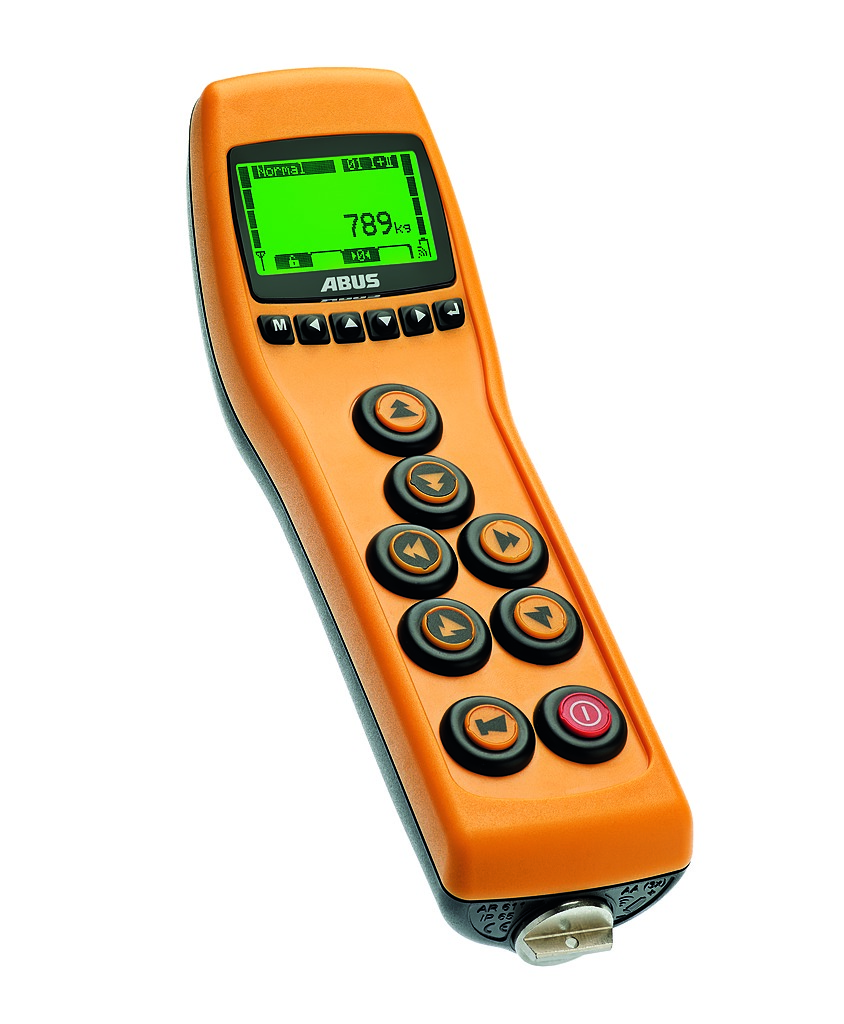 Description
ABURemote gives you the freedom you need when transporting heavy loads. The load can be moved from the safest available standing position which offers the best overview.
Optimised specifically to be used with ABUS crane systems, the ABURemote is characterised by high quality. Choose between two types of transmitters: the hand-held transmitter ABURemote Button or the joystick transmitter ABURemote Joystick.
Control the cranes by using the two-stage buttons. The master switches allow you to control frequency-controlled drives. Accelerate or decelerate to reach the required speed and hold that speed with ease.
The back-lit display provides information such as selected settings, active cranes and hoists, the strength of the radio signal, and the battery charge. And – if a load indicator system (LIS-SV) has been installed – the weight of the load on the hook is displayed also. The intuitively designed menu allows you to quickly access your crane functions. Four function buttons can be assigned individually to the commands you frequently need.
Forget expensive and complex replacement of special batteries. ABURemote works with standard rechargeable Mignon batteries (AA) with a charge life of more than 40 hours.
Your ABURemote transmitter may be kept comfortably about your person whilst leaving your hands free: the hand-held transmitter via a belt clip and the joystick transmitter on a waist or shoulder harness.
This form collects your personal information. This site uses the so-called cookies to ensure better user experience and functionality. Using our site you agree to using cookies.